The replacement of old boilers plus replacing the collective flue gas: sooner or later every Association of Owners will have to deal with it. Many Association of Owners fear the high costs and the major nuisance for residents involved. In addition to the inconvenience and clutter of the demolition work, the residents sometimes suffer days without hot water and heating. Cox Geelen developed a plastic flue gas exhaust system that can be installed from the roof by lowering pipe sections through the existing shaft, flue gas or ventilation duct.

The CoxHYBRID® CFS PP is an advanced collective flue gas extraction and air supply system, developed in Cox Geelen's in-house R&D Cenre in close cooperation with installation companies in the Netherlands and abroad.
Renovation of collective flue systems with CoxHYBRID® CFS PP
This innovative solution enables you to adapt old shared system chimneys in multistorey buildings quickly and easily for connection of modern high efficiency condensing boilers. Due to the corrosive environment Polypropylene (PP) and stainless steel are the safest materials to use.
The CoxHYBRID® PP CFS system is lightweight and is quick and easy to install. The sections used to create the replacement chimney, have flexibility built-in providing the adjustment needed to accommodate different floor to floor heights, so eliminating the need for cutting on site. There is no problem if there is no facility to provide a drain facility for the condensate. The condensate can be easily discharged through the flue pipe to the
boiler. A complete CoxHYBRID® CFS PP stack is made up only of a few standard parts, namely a roof terminal, a roof mounting plate, a number of repeating pipe sections and a base unit.
Especially developed for connection to modern, condensing, high efficiency boilers
with a maximum flue gas temperature of 120°C (T120).
How does it work?
A multi-storey apartment building usually has several shafts or shared system chimneys. Renovation is carried out one shaft at the time. Each shared chimney can be completely renovated in 1 day. All apartments that are connected to such a shaft are fitted with a new high-efficiency condensing boiler. At the end of the day all heating boilers are connected to the CoxHYBRID flue system, including a new roof terminal on the roof. Duct by duct, the entire building is equipped with new appliances.
Points of consideration
Multi-storey residential building with floor height from 2.6 m to 3.1 m.
All old boilers must be replaced by modern condensing devices at the same time per shared chimney.
No bends or narrow sections in the shaft.
Width of the chimney or pipe. The CoxHYBRID® PP CFS system (diameter Ø 130 mm or Ø 180 mm) must fit into the existing shaft.
Application
The CoxHYBRID® CFS PP system is designed for the renovation of old gas flue ducts (Shared System Chimneys) in multi-storey residential buildings and is approved up to 20 floors for the connection of suitable gas-fired condensing appliances (T120). As no major engineering re-work is necessary in the building the residents experience minimum disruption during the installation.
The following Shared System Chimneys originally designed for dry flue gases (non-condensing SE boilers) can be renovated with CoxHYBRID®:
Spiral wrap metal seamed chimneys (VMC).
Architectural masonry chimneys.
Shared structural chimneys, for example Shunt, SE-Duct, U-Duct.
Aluminium and Stainless Steel CFS systems.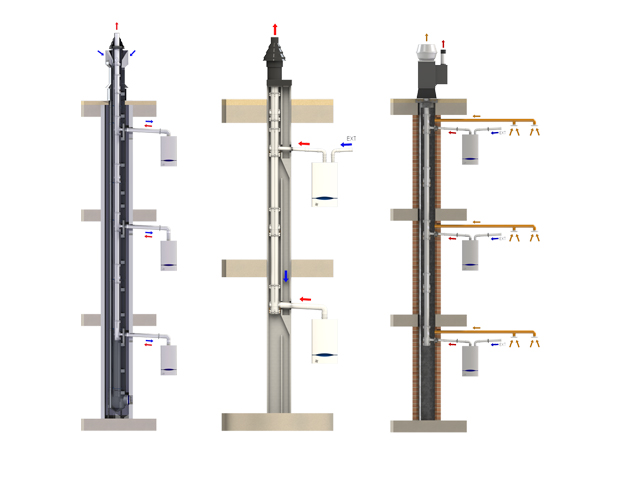 Media
► To get an impression of the installation of the CoxHYBRID CFS PP system, we recommend watching the video. In this video you can see how a shunt duct is renovated with CoxHYBRID® CFS PP. The footage was filmed on site during the installation.