The ECONEXT® heat pump cover is a stylish split-unit or monoblock cover for new build and renovation projects.

Cox Geelen offers an appropriate solution for every project
and an appropriate cover for each roof.
---
The idea of placing the split unit or monoblock of the air source heat pump on the roof dates back to 2013. In practice, the demand for a prefabricated heat pump cover arose due to lack of space and noise pollution.
---
---
As a manufacturer of prefab chimneys, Cox Geelen developed, together with the industry, a prefab cover in which split units or monoblocks can be preinstalled. Due to the high positioning, residents can experience 10dB(A) less noise on the ground.
An additional advantage is that when renovating, the units can be installed close to the original hot water unit.

---
Why placement on the roof?
Because on the ground you may experience up to 10dB(A) less noise.
Naturally, these stylish cover-ups are also suitable for HYBRID heat pumps.
The perfect heat pump cover
Optimised for your brand and type of heat pump.
Roof slope accurate to 1˚.
Can be installed on almost all types of roofs, whether sloping or flat, on ridge lines or gables.
Position and height of the inspection hatch adaptable to the heat pump model.
Characteristics of the heat pump cover
Standard water outlet (condensation/melt water).
Inlet for cooling pipes and solar panel cables.
Optional use for ventilation, heat recovery air inlet/outlet and sewer ventilation.
Environmentally friendly, fitted with lead-free flashing as standard.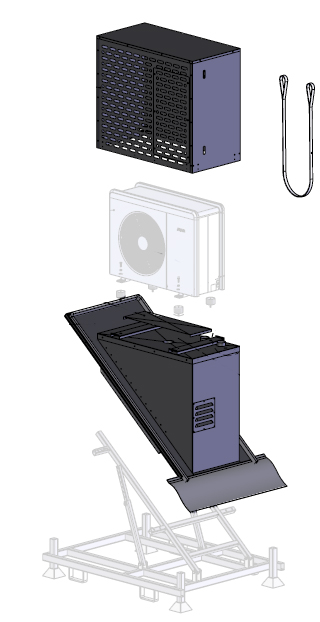 Research and Development
Thanks to continuous innovation, our products are becoming better, more durable and safer.
The next step to a better environment
By compensating for our CO2 emissions, we are helping to combat climate change.
Quality and safety
The right certifications are a guarantee of
for quality and safety.