The ECONEXT® DecoMute is Cox Geelen's latest development within its range of heat pump covers.
This DecoMute is a cover that reduces the noise of the heat pump by up to 5 dB and is specially designed for placement around the house such as in the garden or at the front of the house.
Now that air heat pumps are appearing more and more in the street scene, people are increasingly disturbed by these devices; the sound and appearance of these mostly white boxes are often not an asset to the neighbourhood. That is why Cox Geelen has conceived a housing for heat pump outdoor units with a design that is both appealing and sound-absorbing at the same time. Thanks to a sophisticated design and smart use of materials, a cover has been developed that reduces the emitted sound by up to 5 dB, and with its calm lines, fits both modern and more classical homes.

· Up to 5 dB noise reduction · High-end design
· Easy servicing · Made in the Netherlands
Smart design
The smart engineering design for this ECONEXT® heat pump sound cover includes the following features:

Acoustic insulation: The cover is made of materials with high acoustic insulation properties, such as foam, to reduce the transmission of sound through the cover and into the surrounding environment.

Noise absorbing panels: At its air in- and outlet, the cover comes with panels that absorb sound and reduce its reflection, helping to reduce noise levels even further.
High efficiency: With its low drag and anti-recirculation by design, the cover ensures a high efficiency of your heat pump.

Easy installation: The cover is designed for easy installation, allowing it to be quickly and easily fitted to the heat pump.

Durability: The cover is made of durable materials to withstand harsh outdoor environments and ensure long-lasting performance.

Overall, a smart engineering design for a sound cover that combines materials to effectively reduce the noise generated by a heat pump.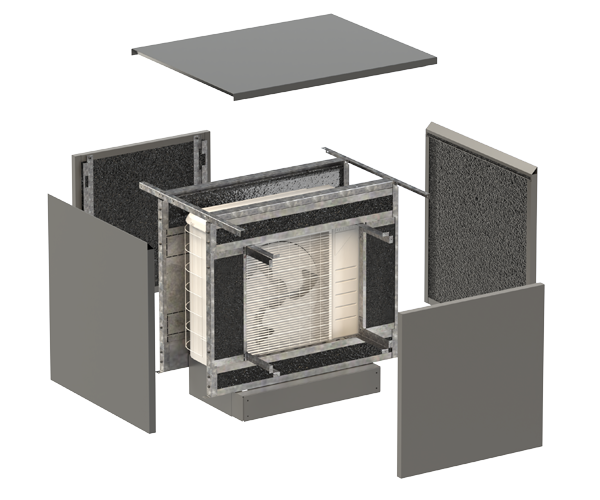 Setup and servicing

Its design enables that the setup of the cover can be done by one person.

For cleaning and servicing, the cover allows a quick and easy access to the fan, condenser and refrigerant connections of the heat pump.
Advantages ECONEXT® Decomute

Reduces noise by up to 5 dB.
Protects the outdoor heat pump against rain, wind, hail and UV.
Protects the heat pump against vandalism.
Hides the heat pump outdoor unit and gives it the looks of a sophisticated item.
Easy to install.
Also for retro-fit.
A unique design that fits any environment.
What if your heat pump would not look like a heat pump?
What if your heat pump did not only help saving the environment, but also added that extra little something to your garden?